One win from three matches wasn't the result we were looking for, but yesterdays 'Susan Alberti Medical Research Day at the Farm' was a huge success #thankyousue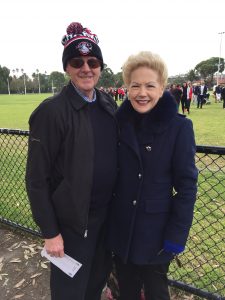 Thirds (Division 2 – South East)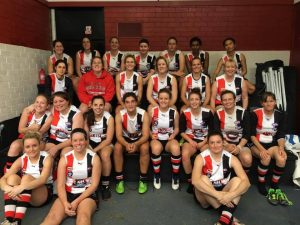 Sharks 0.2-2  lost to Endeavour Hills 14.9-93
The division 2 Sharks ran into the top side (Endeavour Hills) and they were far too strong for our thirds side, but it's only round two and our new Sharks are showing plenty of improvement.
Best Players: J. Frassenei, S. Mulligan , L. Savage, E. Simkin, C. Burns, S. Wagner
Reserves (Division 1 – South East)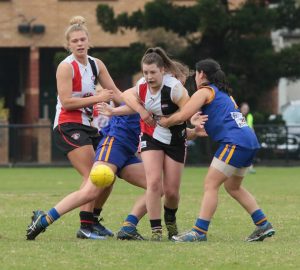 Sharks 9.6-60 defeated Cranbourne 2.3-15
In our South East division one match the Sharks were convincing winners in their match against Cranbourne. New recruits Taylor Mesiti, Danica Pedersen and Mia Amon hit the scoreboard and helped the Sharks to a 45 point win..
Goal Kickers: C. Standley 2, T. Mesiti 2, E. Inguanti 2, D. Pedersen, M. Amon, B. McConville
Best Players: A. Whitehead, D. Pedersen, T. Mesiti, C. Standley, E. Inguanti, N. Clarke
VFLW
Sharks 5.5-35 defeated by Melbourne Uni 6.4-40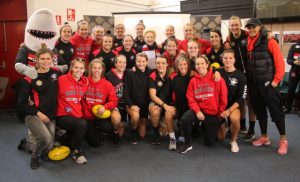 The Sharks came storming home, but when the siren sounded we were five points down. Unfortunately we left our run too late. The VFLW side are now 1/2 and will be facing Box Hill in a fortnight.
Susan Alberti Medal
The best player from both sides (decided by the coaches) was awarded the Susan Alberti Medal. Congratulations to both Brianna Davey (Sharks) and Gabrielle Pound (Melbourne Uni).
Jenna Colwell, Jasmine Garner, Kate Hore, Maddy Gay, Ruby Schleicher and Louise Bieniara were also amongst our best.
Goal Kickers: K. Hore 2, G. Harris, E. Paterno, J. Garner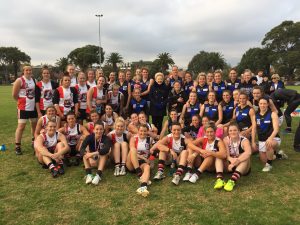 Photo credit – Hayley Maxwell and Vicki Hansen